Maryland MEP client and medical diagnostic manufacturer Ellume hosts Senator Cardin (D-MD), Senator Van Hollen (D-MD) and Congressman Trone (NMD-06)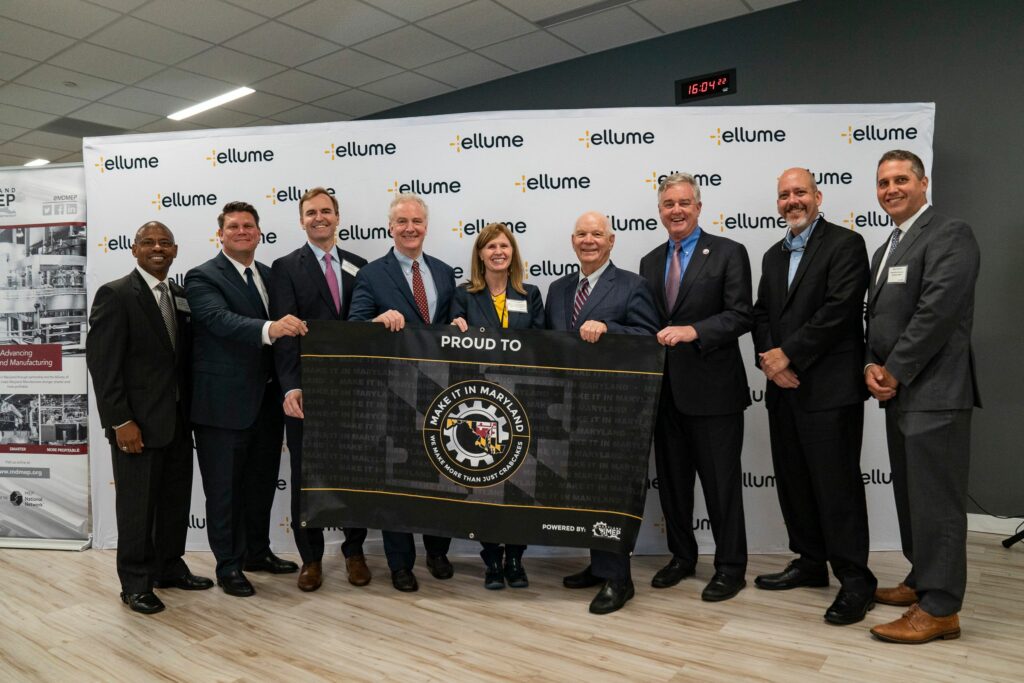 (Pictured from left to right: Wayne Hardy, Vice President, Operations, Ellume USA; Joseph Michael Mann II, Director, Government Affairs, Ellume USA; Dan Mallon, Vice President, Business Development, Ellume USA; Senator Chris Van Hollen (D-MD); Dr. Laurie Locascio, Under Secretary of Commerce for Standards and Technology and Director of NIST; Senator Ben Cardin (D-MD); Congressman David Trone (D-MD 6); Sean Kirk, Chief Operating Officer, Ellume USA; Michael Kelleher, Executive Director, Maryland MEP)
On Wednesday, August 9, 2022, Senator Ben Cardin (D-MD), Senator Chris Van Hollen (D-MD), and Congressman David Trone (MD-06) joined the Maryland Manufacturing Extension Partnership (Maryland MEP) for a visit of Maryland MEP client Ellume, a medical diagnostic manufacturer located in Frederick, Md. The event served to support, promote, and celebrate manufacturing in Maryland.
MD MEP and Ellume were pleased to welcome the congressional delegation as well as Dr. Laurie E. Locascio, Director of the National Institute of Standards and Technology (NIST), for a tour of Ellume's state-of-the-art facility. The guests also participated in a roundtable conversation with Ellume's leadership and workforce.
This event took place on a monumental day for U.S. manufacturing. Earlier that morning, the CHIPS and Science Act was signed into law, authorizing $9 billion for NIST and tripling the funding for Manufacturing Extension Partnership programs across the country. To help commemorate the occasion, Maryland MEP presented each member of the Congressional Delegation with a "Proud to Make it in Maryland" banner, a program designed to highlight and showcase the nearly 4,000 manufacturers that are proud to call Maryland home.
"Today, I got the opportunity to speak with Frederick and Washington county residents about my top priorities in Congress. We need to invest in manufacturing, medical research, local businesses, mental health, and our first responders," said Congressman David Trone. "I'm fighting every day in Congress to expand resources and funding for these initiatives and I'm proud to say that we've been able to make significant progress by passing both The Public Safety Officer Support Act and the CHIPS and Science Act. This progress is important but it's only just the beginning."
"I very much enjoyed the opportunity to join Congressman Trone, Senator Van Hollen, NIST Director Locasio and the many constituents who joined us in Frederick for several candid discussions about current events," said Senator Cardin. "Every time I visit Frederick County, I am struck by the commitment to innovation and advancement I see in the region and its residents. From its small businesses to cutting-edge medical science installations, Frederick has found ways to preserve its historic character while positioning itself for a strong regional economic future."
"Having both Senators Cardin and Van Hollen as well as Congressman Trone take time out of their busy schedules to visit Ellume and talk about the opportunities that exist in manufacturing demonstrates the importance of our industry to Maryland's economy," said Maryland MEP Executive Director Michael Kelleher.
About the Maryland Manufacturing Extension Partnership (Maryland MEP)
The Maryland Manufacturing Extension Partnership (MD MEP) is a Maryland 501c3 non-profit organization committed to supporting and growing manufacturing in Maryland. The organization is funded in partnership with the National Institute of Standards and Technology's Manufacturing Extension Partnership, the Maryland Department of Commerce and Industry to support the manufacturing industry in Maryland.
For more information, follow Maryland MEP @mdmep on Twitter, Facebook, and Instagram.