Frederick County's Manufacturing Advantage
Strategic location & transportation infrastructure
Targeted industry incentives
Skilled and growing workforce
Competitive energy costs and programs
Global expansion assistance
Regional, state, and local resources and partners
Manufacturing collaborative environment
Why are manufacturing companies choosing Frederick County to start, expand and locate? Check out Frederick County's Manufacturing Advantage.
Strategic Location and Infrastructure
Frederick's transportation infrastructure, as well as its central location on the East Coast, offers easy access to move products by air, land, and sea. Manufacturers benefit from four international airports, Frederick's reliever airport, extensive road and rail network, and the Port of Baltimore.

Due to its prime location in the Mid-Atlantic and in one of the country's busiest commercial areas, products are within an overnight drive of one-third of the US population.
When you expand or locate your manufacturing business to Frederick, you're creating more jobs for more Marylanders.
Fuel for Success
Get the most out of establishing, expanding, or relocating, your manufacturing business. Frederick County's competitive tax structure, business-friendly economic climate, and attractive local and state incentives save you time and capital.
Commercial & Industrial Business Tax Credit
Rehabilitated Vacant Commercial Tax Credit
New/Enhanced Jobs Tax Credit
No Business Personal Property Tax Credit
Fast Track Permitting
Workforce Recruitment and Training Programs
Competitive Energy Costs & Programs
Opportunity Zones
Maryland Economic Development Assistance Fund
More Jobs for Marylanders
Job Creation Tax Credit
Partnership for Workforce Quality Grant
Employer Security Clearances Costs
Research & Development Tax Credit
An Ever-Expanding Workforce
Any experienced business leader knows that a company is only as good as it's people. In Frederick County, there's a growing workforce of highly-qualified, skilled, and educated talent.
Thanks to its centralized location, Frederick has a broad labor pull, attracting the state's 110,000 manufacturing employees and talent from across the tri-state region, including Pennsylvania, Virginia, and West Virginia.
Maryland boasts 57 colleges and universities, 16 community colleges and numerous local training and recruitment services – including Frederick County Workforce Services. They provide recruitment support, training programs and funding assistance, internship opportunities, business education workshops and industry related boot camp programs. Frederick Community College offers the new Logistics & Production Technology program to prepare students in supply chain, biotechnology and manufacturing.
$1.00 = $2.79
FOR EVERY $1.00 SPENT IN MANUFACTURING, ANOTHER $2.79 IS ADDED TO THE ECONOMY
$2.35 TRIL
MANUFACTURERS CONTRIBUTED $2.35 TRILLION TO US ECONOMY (4TH QTR, 2020)
$1.2 TRILL
US MANUFACTURED GOODS EXPORTS TOTALED NEARLY $1.2 TRILLION (2020)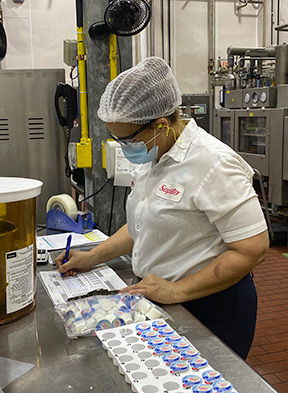 A Collaborative Manufacturing Community
Frederick County manufacturers benefit from a collaborative community of businesses, fueling innovation, partnership, and a sense of local pride. Here are just a few award-winning Frederick-based manufacturers that are part of our community:
Life Science
Kite, AstraZeneca, Lonza, Biofactura, Leidos, RoosterBIO, ThermoFisher
Construction, Materials, & Products
NVR, Canam Steel, Rinker Materials
Printing
Navistar Direct, Image Direct, RRD
Machinery and Equipment
Wright Manufacturing, EDCO, Stulz Air Technologies Systems, Abicor Binzel
Food Processing
Bimbo Bakeries, Saputo Dairy Foods, McCutcheon's Apple Products, Dairy Maid Dairy
Craft Beverage
Flying Dog, Linganore Wine Cellars, McClintock Distillery
Electronics & Component
Wilcoxon Sensing Technologies, Phoenix Mecano, Patriot Technologies
Interested in Expanding or Locating to Frederick County?
Contact the Frederick County Office of Economic Development at info@discoverfrederickmd.com.