October is National Manufacturing Month. Frederick County is home to a variety of manufacturing companies in industries that include technology, equipment, agriculture, and so many more. Throughout the month of October, we will be highlighting some of Frederick County's manufacturers and learning more about their operations.
This week we are getting to know Bimbo Bakeries USA. Located on English Muffin Way, the Frederick bakery specializes in Thomas' English Muffins.  Bimbo Bakeries USA bakes for Thomas', Entenmanns, Little Bite, Arnold, Sara Lee, Ball Park, Bays and many others. With 20,000 employees across the country, Bimbo Bakeries has 130 employees here in Frederick County. Bimbo Bakeries USA is part of Grupo Bimbo, the world's largest baking company with operations in 33 countries.
The team at Bimbo Bakeries is very passionate about the community. Each year they choose a local nonprofit organization to support that focuses on Children, Health & Wellness, Physical Activity, Education, Environmental Sustainability or Hunger Relief. This year, the team's "Good Neighbor Project," is supporting the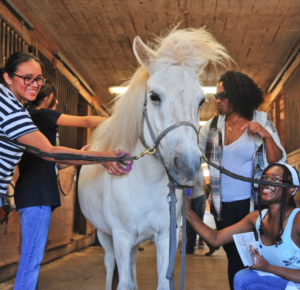 Frederick County 4H Therapeutic Riding Program in Thurmont. BBU volunteers have been working at the barn for the past several weeks doing tasks such as helping to groom and tack up the horses for lessons, lead the horses during the lessons, be side walkers for the riders to assist in stability and safety, or other duties that need to be done. The sessions last seven weeks and lessons are on Tuesday and Thursday evenings, as well as Saturdays. In each class, there can be five horses with riders in the ring and each rider requires a leader and two side walkers, so there is a large need for volunteers. The mission of the therapeutic riding program is to provide those who have medically certified mental, physical and/or emotional disabilities with equestrian activities in order to learn basic horsemanship skills, improve physically with better muscle tone, balance and posture, and encourage riders to improve their emotional well-being by building self confidence and self-esteem.
You can learn more about Bimbo Bakeries USA by visiting their website https://bimbobakeriesusa.com.