In Frederick County, women are driving innovation, economic growth, and positive change in the manufacturing industry. Their leadership, entrepreneurship, skills, mentorship, and community involvement are instrumental in shaping the manufacturing landscape of the county. Let's celebrate some of the remarkable women who are making things happen in the manufacturing industry!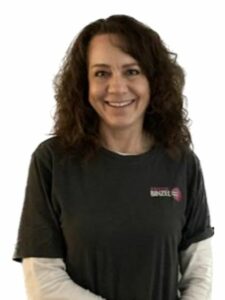 Shannon Wagner works at Abicor Binzel USA as a Material Handler. Abicor Binzel specializes in welding torch manufacturing, assembly, and repair solutions. Shannon's role as a Material Handler requires her to pick out the products on specified tickets using a handheld scanner. She will verify the correct product, amount, then pre-package and label larger quantities before they are shipped. She also works in the pack line to verify the correct product and quantity are being packed. If an order is too large, she will break it down into several smaller packages and reseal them before they return to the pack line.
Shannon values a fast-paced environment and knew she wanted to work where she could be on her feet and moving around as much as possible. Manufacturing might not have been in Shannon's line of sight, but she knew the job would be active and meet her needs to be motivated and constantly moving around.
Although today she doesn't face many challenges as a woman in manufacturing, at the beginning of her career, Shannon experienced push back from those who thought she might not be able to handle the strenuous work often required in manufacturing. She was proud to be able to prove her adaptability and ability to learn quickly, as well as her physical and mental strength.
Shannon advises other women to always keep an open mind and go into things knowing that it's not always easy. She suggests being a team player, having a positive attitude, and being willing to go the extra mile when necessary. Most importantly she says, having a good sense of humor and wearing a smile goes a long way.
To learn more about Abicor Binzel USA, visit https://www.binzel-abicor.com/US/eng.